Reading time: ( words)
I felt like I had a lot to prove to myself during this week's long run after bonking last week running the West River Trail in OKC. This week I decided to head back to Lake Hefner for my scheduled 16 mile run, with hopes that familiar terrain and landmarks would make the mental game easier.
Pre-run preparations
Before going out for long runs I tend to over-hydrate (not on purpose) but my food game I feel is on point. Breakfast consisted of a 20-ounce cup of 7-11 coffee (no sugar). Lunch consisted of:
40g pitted dates
28g raw almonds
3 slices of Nature's Own Life Honey Wheat bread, toasted (each slice is only 40 calories!)
3 tablespoons of peanut butter (1 per slice of bread)
1 20oz of Coke Zero (my guilty pleasure, don't judge me)
1 bottle of water
I tried something new this week. I got a jar of Peanut Butter Co.'s Dark Chocolate Dreams Peanut Butter (85 calories/Tbsp.) and it was freaking amazing. I think I like it more than Nutella, and with it being a little friendlier on the calorie budget I am sold.
My lunch total came out to 643 calories. It's a little low for such a long run, but I was going to supplement with Gu while running so I didn't worry about going too crazy.
Gear
I geared up with my standard "loadout" for running:
Short-sleeve compression shirt (to prevent chafing)
Short-sleeve tech shirt
Shorts / running socks
Saucony Omni 16 running shoes
Camelbak full of water, also holding my phone, wallet, etc.
Headphones for running sanity
My Garmin Forerunner 935 watch.
Several packs of Gu Energy gels in a variety of flavors
This was my first time running with a Camelbak. The pack I have is older, and meant more for hiking. It's kind of bulky and added a little extra weight to my body, which didn't help with energy conservation during the first half of my run. I think I'll start looking at models geared specifically to runners.
The Run
The weather at Lake Hefner could not have been more ideal: mid-60's to low 70's, sunny, and next to no wind. I arrived at the park and started off my run, trying to remind myself to keep my pace at a reasonable level to not run out of energy.
I decided to ration out my water and Gu by having one Gu packet every hour, along with some water. I would also drink water every four miles to keep fully hydrated.
That strategy seemed to work fairly well. I didn't feel like I did last week where I basically became a shriveled up California Raisin.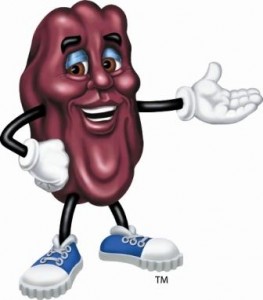 Me, last week
At the 8-mile point I had a choice: I could either keep going around the lake (one trip around the lake is about 9.5-ish miles), run a little more than three miles and then double back, or I could just turn around and go back to get exactly 16 miles.
Part of me wanted to keep going, because construction has prevented people from going all around the lake for a while. It would have been cool to finally get to go all the way around again. But I also knew that as soon as I passed by my truck it would be overwhelmingly tempting to stop right there. I didn't want the temptation, so I turned around at mile 8.
At mile 9 I started noticing my quads. They were starting to get a little sore. Nothing serious, but just annoying.
At mile 10 I was getting pretty tired, so I said to myself, "If I can't go 16 miles on basically flat terrain under ideal conditions, how are you ever going to expect to enter the Barkley?" That, surprisingly, really helped. I stopped whining internally about the run and kept moving.
Mile 12 came and my quads weren't hurting, but my calves were getting sore. I was starting to see other runners and bicyclists again so that was nice.
I hit the 13.1 mark and started smiling. I knew my time was going to be good for my half-marathon distance, and I still had energy in me to continue. Anything extra I did today would still be an improvement over my failed run last week.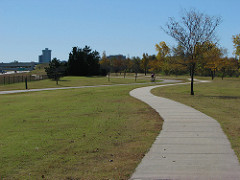 The west side of Lake Hefner, where the trails split for pedestrians and bikers. Photo by Care_SMC
Mile 15 put me right in front of Mama Roja's, which isn't fair because of the delicious smells and the fact that I still had a mile left. It was at this time, though, that my stomach was getting a bit touchy. I happened to pass by a couple who looked to be on a date, and the dude had on waaaaaay too much cologne. The cloud of stink hit my face and my stomach immediately went into knots. I had to slow down a bit.
After about a quarter mile the cloud was long gone, the funky cologne out of my system, and my stomach returned to its normal state. I dodged a bullet, but felt like I was close to losing my lunch.
I hit the 16 mile mark right in front of my truck, and did a celebratory lap around it to cool down. To date this was the longest distance I have ever attempted to run and it felt good to complete it. Not once did I have to slow to a walk, and I managed to stay hydrated this time.
Post Mortem
This was my first run with the new watch, and I'm in love with it. The GPS is hella accurate compared to my original series Apple Watch, the metrics are amazing, the battery life barely moved even after 3 hours of tracking a run, heart rate monitoring is impressive, and so on. I have no bad things to say about it at all. If you are a runner, you are doing a disservice to yourself if you don't consider checking out a Garmin product.
I have been following the Hal Higdon Marathon Novice 1 training program, and with only 7 weeks remaining I'm worried that I won't be strong enough to do 26 miles in time for the OKC Memorial Marathon, but I will keep training, listen to my body, and trust the program. After a few days of recovery I'm sure I'll be itching to go even further.