Reading time: ( words)
After completing the OKC Memorial Marathon in April, I wasn't entirely satisfied with my performance. My goal was to finish, but I felt like I could have done much more. I let nerves and improper pre-race planning cause GI issues that slowed me down, among other things.
So when I learned that Tulsa has its own marathon race, the Route 66 Marathon, I was immediately interested. Another thing that seemed interesting was the fact that they have a "detour" that takes you through the tourist attraction the "Center of the Universe", that adds .3 miles to the race total making the race the "World's Shortest Ultramarathon". As a fan of ultras and the desire to eventually run them myself this sealed the deal for me. I would run and conquer this race with the goal of beating my time from the OKC Memorial Marathon.
As I started talking about my plan to run the Route 66, the feedback I kept getting was, "Oh man, that's a hilly race." Multiple people who ran this in the past told me this with a look of PTSD and pity. I thought for sure I'd be fine with the weekly running I do on the hilly neighborhoods of Quail Creek near work.
Little did I know, and much have I learned…
Training
For my first marathon, I used Hal Higdon's Novice 1 plan for running a marathon. I was able to follow it about 95%, only missing one long run and bonking pretty hard on the first 15-mile race. I decided that since I've been keeping up the running, I could bump the training plan a bit and go to the Hal Higdon Novice 2.
It was an extra bit of mileage added over the Novice 1 plan, and I admit I fudged it a little bit to add even more. After the Memorial, my long run days stayed at 13.1 miles, and it felt good to get those miles in. So instead of starting off slow, with long runs under 10 miles for the first six weeks, I kept it at 13.1 until week seven, which bumped up to 14 miles. After that I kept with the scheduled distances.
I didn't get as much cross-training on my bike as I'd liked, but I also added a bit of trail running to the mix, discovering the beauty of the Bluff Creek MTB Trails on the north side of Lake Hefner, very close to work. It's a singletrack trail system that's just under four miles, and frequented by bikers and a few runners. It's not overly technical but it is a good escape from the roads.
I wasn't able to utilize the West River Trail as much for training, because part of it was closed off due to construction nearby as well as repair on a sinkhole near the trailhead I'd start from. So I primarily stuck to training around Lake Hefner on the Bert Cooper Trails, and downtown OKC along the Oklahoma River Trails. Both are pretty flat with no serious elevation changes.
Pre-Race
We made it to Tulsa on Friday evening, just in time to pick up race packets and check out the expo. Lori and Mason planned on running the 5k race on Saturday, while I was planning on holding out for the Marathon on Sunday morning. Had I known there was an extra award for doing both the 5k and the Marathon, I would have signed up for both. Next year!
The expo was pretty solid. We attended talks by Bart Yasso and Mark Bravo, got plenty of race swag, and sampled a bit of local Tulsa cuisine before the race.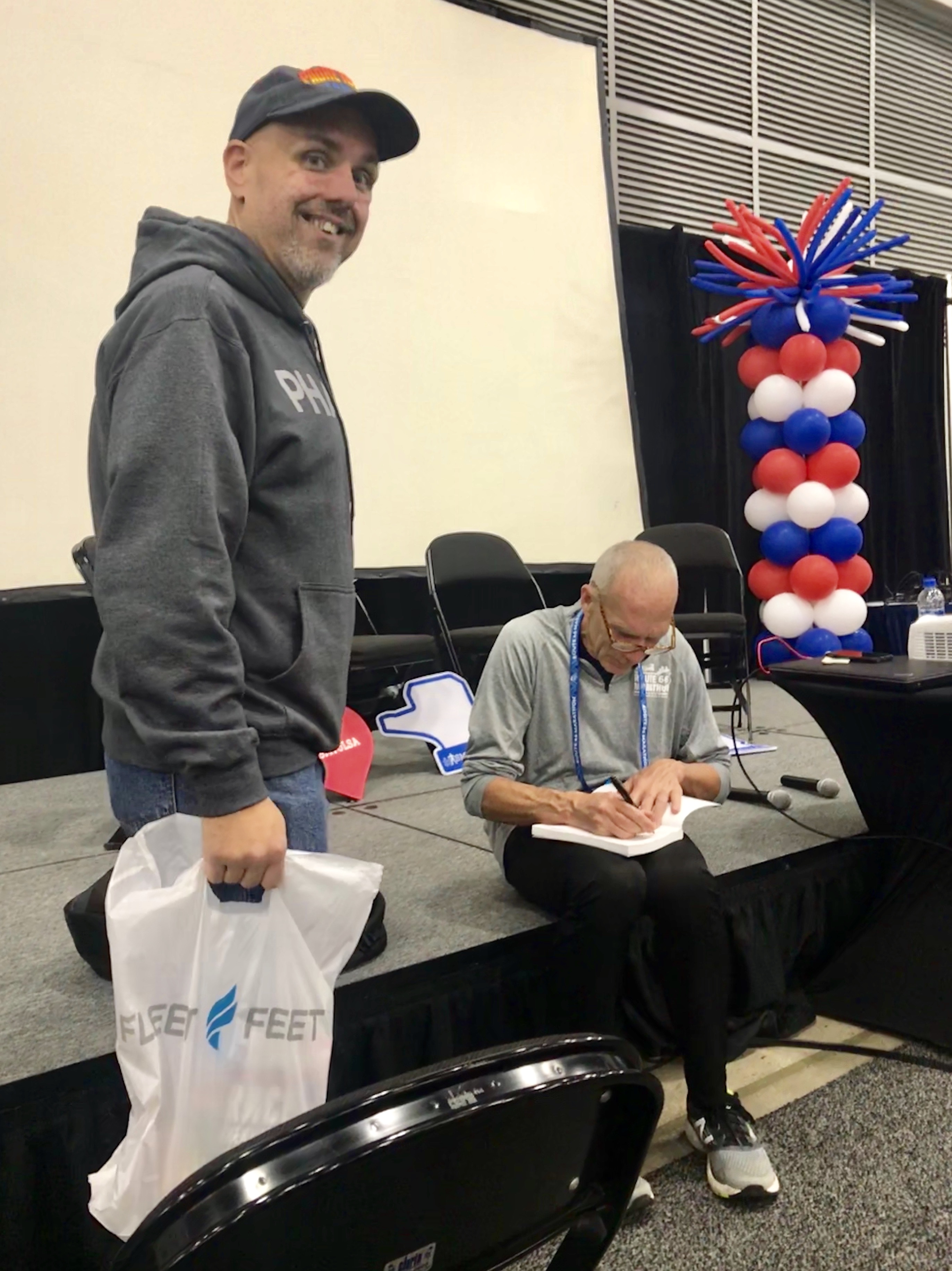 The vibe of Downtown Tulsa is pretty solid. It manages a balance between big city and local, smaller communities that OKC hasn't quite hit yet (although it is well on its way!).
The First Half
The weather was stupid cold. It was freezing cold, drizzly, and windy. In other words: perfect marathon weather. I'd much rather it be on the cold side for long runs like this instead of hot. The weather can act like nature's heat sink and keep you cooler longer.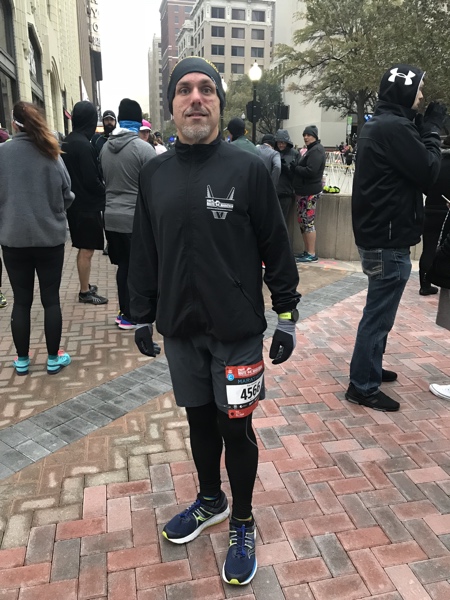 However, the wind was a bit much and I wasn't liking it. I layered up and even with all the extra gear my fingers were still slightly numb throughout most of the race.
Once the gun went off we were off, leaving the heart of downtown Tulsa and heading toward some of the sights of local neighborhoods. The first five miles were fairly easy and flat. "If this is as hilly as it gets, I don't know what all the fuss is about," I thought to myself.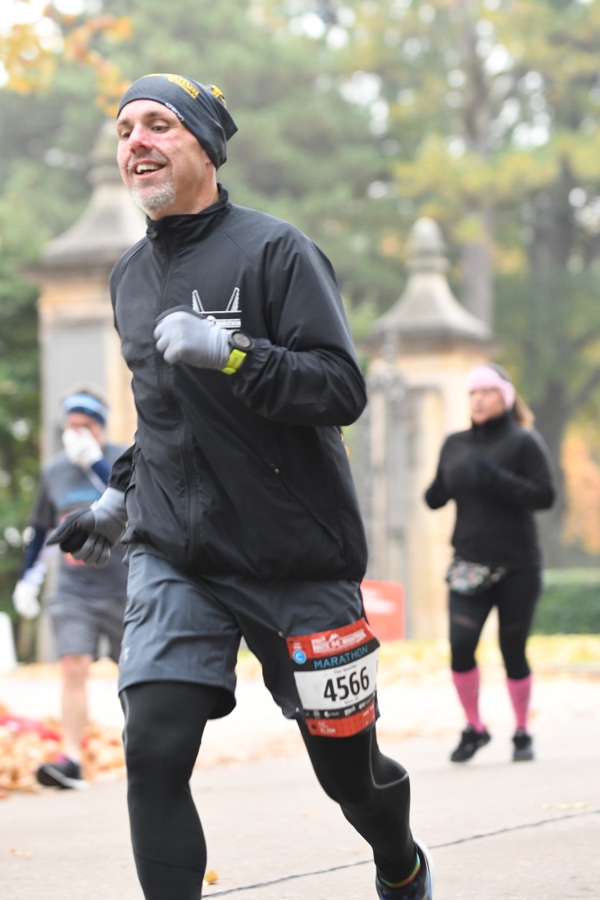 The course did git a little hillier, and around mile seven we were approaching a very scenic part of Riverside Drive, a new addition to the course. Riverside has been under construction for some time, as a new road, a majestic park called "The Gathering Place", and some well-lit tunnels were built along the river.
I ran with a pacer for a while, a native to Tulsa, who explained that the first five miles or so was pretty flat, but from that point on the hills would get serious and not stop. He was right. By the time we reached the halfway point, my calves were on fire from the inclines and I was pretty tired already.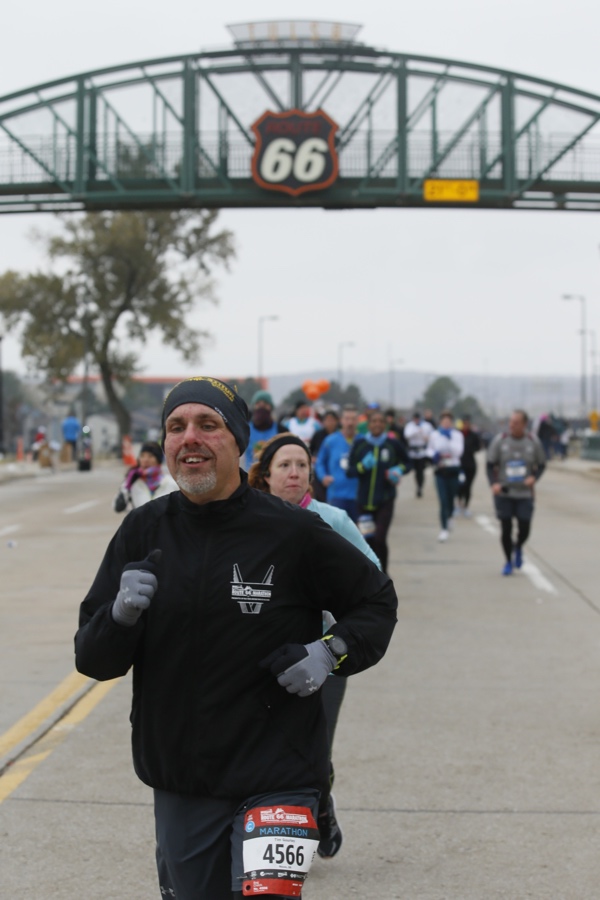 Right at the halfway point, huddled next to a tall building, I saw Lori and Mason. I ran to them, gave them quick high-fives and hugs, and ran back out. Seeing them re-energized me and I was able to keep going, even though my body was telling me that already I was starting to flag.
The Slowdown
I powered through the next five miles or so, but then started walking through water stops, which was a bad idea. My pace slowed, and I ended up walking the ascents and running the descents. My calves were still on fire and it was getting to me. I allowed myself one restroom stop at mile 19, because I just wasn't sweating as much in the cold weather and the water stops were piling up on me. At least I wasn't suffering the GI issues I did in the OKC Memorial Marathon!
My pattern of walking and running continued until mile 21, when the 5-hour pacer caught up with me. At that point, I got angry with myself. "There is no way in hell I'm letting myself do the same time or worse than my first marathon!"
Epiphany and Finish
Seeing the pacer lit a fire in me and I took off at a tired sprint, getting back to my initial marathon pace. I decided to say, "screw the pain" and kept going. I didn't even stop through water stops, knowing I only had about five miles left and I felt fully hydrated and not really hungry at all. It made me realize that I was letting fatigue dictate my pace. I didn't have to let that slow me down. No, I could monitor my body and understand the difference between the pain of fatigue and the pain of injury, and as long as I knew the difference, I could run through it.
So with that, I kept running.
I made it to the Center of the Universe and made the detour without hesitation. It was a full-on party. People lined the area; sight-seers posed for pictures, music blared, and costumed mascots gave high-fives with abandon. It perked me up and I accepted my detour medallion with a huge smile and ran off to find the finish line.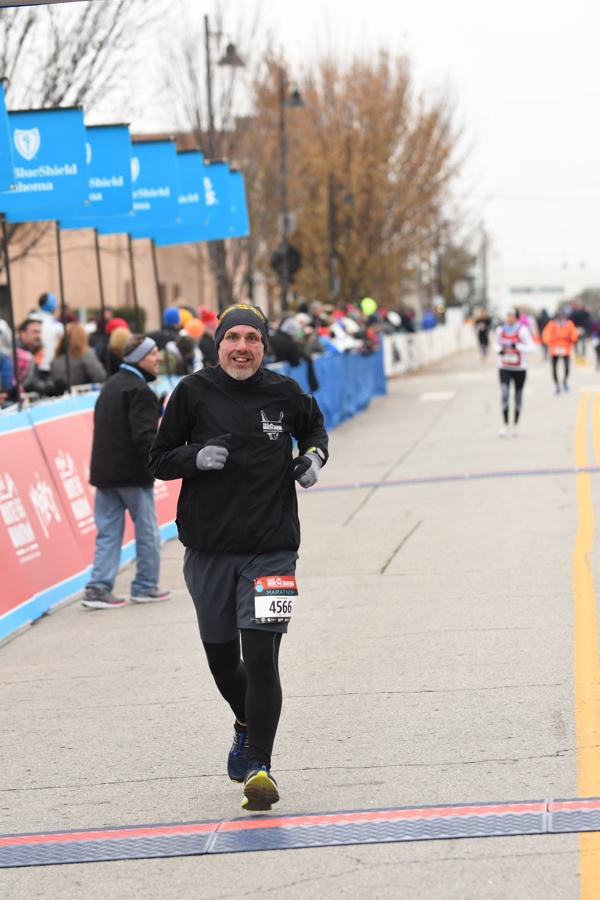 Post-Race
I made it to the finish line with a chip time of 4:57:18, beating my time at the OKC Memorial Marathon. And that is going 26.5 instead of the standard 26.2 distance. My goal was obtained and I felt the surge of accomplishment I had hoped to feel. I found Lori and Mason after devouring my celebratory slice of pizza from the finish line, and we walked back to the hotel. Luckily it was only a block away. Recovery was quick and by that evening I was able to walk around, although curbs and steps were pure evil.
Now that I know I can run through the pain of fatigue instead of surrendering to it, my next marathon time is sure to be even better. Currently the plan is to run both the OKC Memorial Marathon and the Route 66 again in 2019. I'm already looking forward to beating my PR again!