Reading time: ( words)
Since I first discovered the trails at Bluff Creek I've been not-so-secretly enamored with the idea of trail running. My eventual goal is to get into ultramarathons, and a significant number of those are held on trails. It's in my best interest to embrace this desire.
I sought out some trail races to see if there would be any way to dip my toes into the sport, and thanks to a local Facebook group I was able to find one that was local, looked fun, and was for a great cause: The POOP Trail Run.
In this case, POOP is a backronym for "Protect Our Oklahoma Parks", and is a fund raiser for the park system to help keep our local trails going strong. It's a good cause when funding keeps getting slashed and certain parks in the state are continually finding themselves on the chopping block.
The race consists of 5k, 5.5 mile, and 13.1 mile distances, so of course I signed up for the half marathon distance. Why not go all-out?
Timing
The end of the year has been rather race heavy. First, the Route 66 Marathon, followed by the Turkey Tracks 5k just four days later. Then the following weekend, on December 1st, came the POOP Trail Run at Lake Thunderbird in Norman, OK. I was a little worried about ending up injured with such an aggressive schedule, but I promised I'd listen to my body and remain agile.
Race Preparation
In advance, I started weekly runs at Bluff Creek to get used to running on different surfaces. It was a good chance to get used to the trees, the roots, jumps, rocks, and uneven surfaces you typically don't experience on the road. It also served as cross-training for the Route 66 Marathon.
I treated myself to some new trail shoes, going with the Altra Lone Peak 4. I immediately fell in love with the comfort of the shoe and since then I've picked up some road shoes from Altra as well. It turns out I'm a fan of zero-drop and a wide toe box.
The race was on Saturday, December 1st. My typical long-run day is on Friday, getting up at "Stupid O'Clock" to get my run in before work, and I was eager to get back into my regular schedule after tapering for the Route 66. So the day before the POOP trail run I drove out to Lake Hefner and ran 13.1 miles around the lake, albeit on the paved trail and at a much slower pace than normal. My body craved the distance.
Later that day it rained a LOT, so I'm glad I got my training run in when I did. I was a bit worried the race would be rained out, but people online just joked about sloshing around in the mud. They are my kind of people, for sure.
Pre-Race
The morning of the trail run I woke up, and had a typical long-run breakfast:
1/4 cup of oatmeal
1 tablespoon of chia seeds
1/2 tablespoon nutritional yeast
1 chopped banana
14g cashews (half a serving)
A dash of cinnamon
Copious amounts of coffee
I felt great, not at all sore or tired, even after running the distance I did the day before. I was ready to go. I went and picked up my friend Pete, and we both drove down to Lake Thunderbird to start the race.
Running Makes You Warmer
It was pretty dang cold, like just a few digits above freezing. It was supposed to warm up in the afternoon and as my high school band director used to drill into us in order to get us to move back to our marching sets between run-throughs, "running makes you warmer!" So i went shorts and a thermal shirt to balance things out.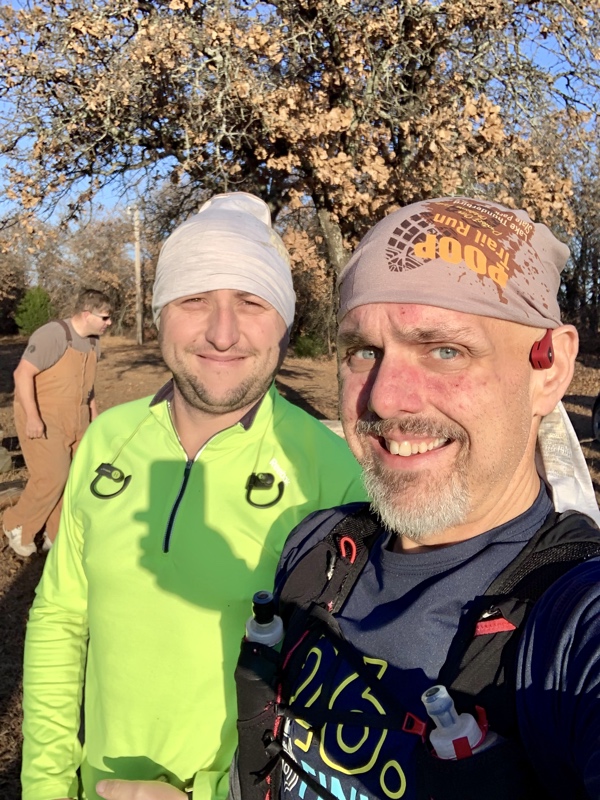 Fortunately, the starting area for the race had a nice campfire going, and Pete and I hung out there until the start of the race. We were able to keep warm and socialize with the other people crazy enough to embark on a long run through the lake's trail system.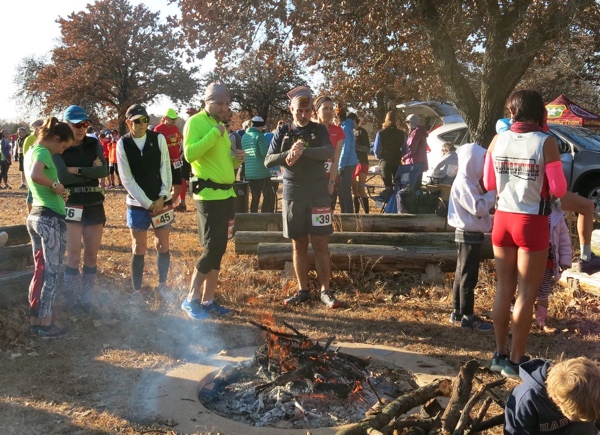 Community Makes the Race
This was my first experience running a trail race. I don't know what I expected, but the feel of the community is so much different. It's laid back, friendly, and open and accepting. Not that the road running community is the opposite of this, but the qualities in the trail running community seems to be more amplified in these areas. It felt, well, like home.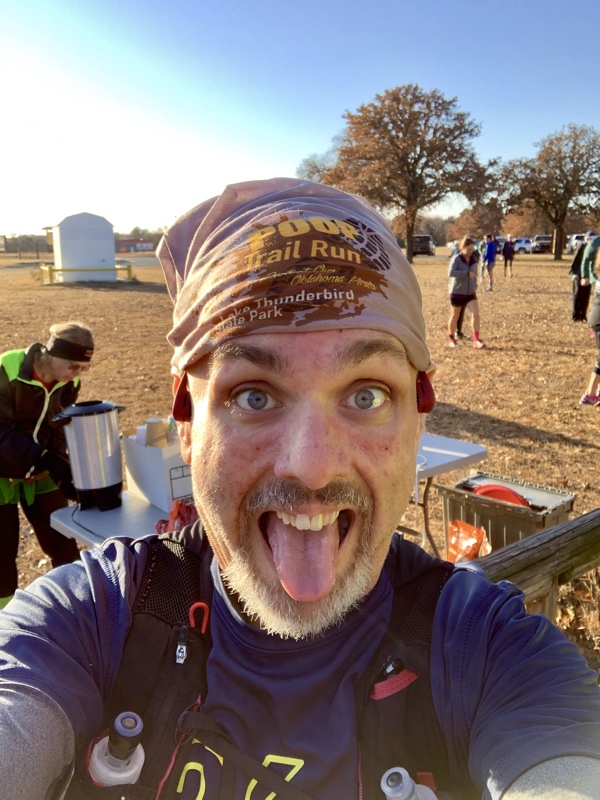 Starting the race
The race director told us the trail was well-marked; paths we should not take would be roped off, signs would point us in the right direction, and otherwise we should just go straight if we come to an intersection and we were unsure which way to go.
We were also told that due to the rain on Friday, most of the trail was still dry but one part of the trail was exposed red dirt by the lake that had standing water and mud and we'd be best off running on the grass during that section. I appreciated the head's up.
The race soon started with a countdown instead of a gunshot, and we took off, funneling through an open field before entering the single track trail so as not to create a crazy choke point.
Immediately I fell into a good pace and was able to keep up. I was near the front of the pack so a few miles into the race I realized I probably went out too fast in my excitement, and had to focus on slowing down a bit so I didn't bonk.
One is the Loneliest Number
At about mile five the lead pack pulled away from me and I found myself alone. Like, really really alone. I couldn't see anyone on the trail ahead of me, and looking back I didn't see anyone else. This was my first time experiencing this. I'm typically a "middle of the pack" racer and always have a horde of people around me, so I immediately wondered if I made a wrong turn.
I had pictures in my head of wandering the trail system for days, surviving solely on the few Gu packets and gummy bears I brought with me and fighting off mountain lions for supremacy of the land. My orienteering skills are minimal and I get lost easily, so I started to freak a bit.
I kept going, however, and soon I found myself on an exposed part of the trail with the lake in sight. And the trail became red dirt, clay, and pools of water. A-ha! Just like the race director mentioned. So I knew I was still on the right path and immediately relaxed. I still planned on fighting any mountain lions for my place in the food chain, however.
Soon enough I encountered a few other racers, who also looked relieved to see another human, and I realized I wasn't alone in the world.
Embracing the Suck
Mile seven started with a straightaway with a serious grade, called "Huffy Hill". Even with my new mindset after the Route 66 Marathon, being able to embrace the suck and endure the suffering of the pain cave, I had to slow to a walk to make it up the hill. The other racers around me were doing the same, so at least I wasn't alone in my suffering.
I made it to the top of the hill and was rewarded with the race's lone aid station, manned by some smiling and sympathetic people. I exclaimed loudly, "that hill SUCKS!" and got some laughs as i graciously took a banana and continued on my way. The trail would eventually loop back around to the aid station a second time before finishing, so I mentally kept in mind the snacks available for later consumption.
After that point I realized my heartrate was starting to spike, and my legs were throbbing. I decided then I was going to have to start walking the climbs and running the descents. It was a course much hillier than I anticipated from central Oklahoma. I found out later that it has as much climb in the half-marathon as the entire Route 66 full marathon, which has a reputation for being very hilly.
Embracing the Earth
At mile 11 I was starting to get tired. I was still running more than walking, for which I was grateful, and I still wasn't hating life. But my feet were not picking up as much as they should, and before I knew it I snagged a root and face-planted into the ground. A guy behind me called out, "are you ok?"
I shot up, flashed a grin, and said, "Yeah, I just needed to give the earth a big hug!". He laughed and we both continued on our way.
It was a little embarrassing, but I had seen others wipe out during the race so I didn't feel too bad. I didn't hurt myself outside of a lightly skinned knee, so nothing serious. Fallen leaves obscured large parts of the trail so it was quite understandable.
Finishing the race
Before long I made it back to the aid station, which was now unmanned but still full of plenty of snacks. I grabbed a handful of Oreo cookies and some pretzels and took off running. How many sports can you say have you running through the woods, munching on Oreo cookies, and grinning like a child getting away with something? Thinking about that I started laughing and knew that I would be doing many more of these races.
A mile later I heard the sounds of people and a little later I emerged from the woods and found myself funneled into the finish line, greeted by people cheering and ringing cowbwells. I finished with a huge grin and a time of 2:31, which was faster than I expected. I was 23rd place overall, in the top-third of all half-marathon finishers. It's slower than my road half-marathon time by a lot but I knew the difficulty of the terrain would slow me down. I was very pleased with the finish.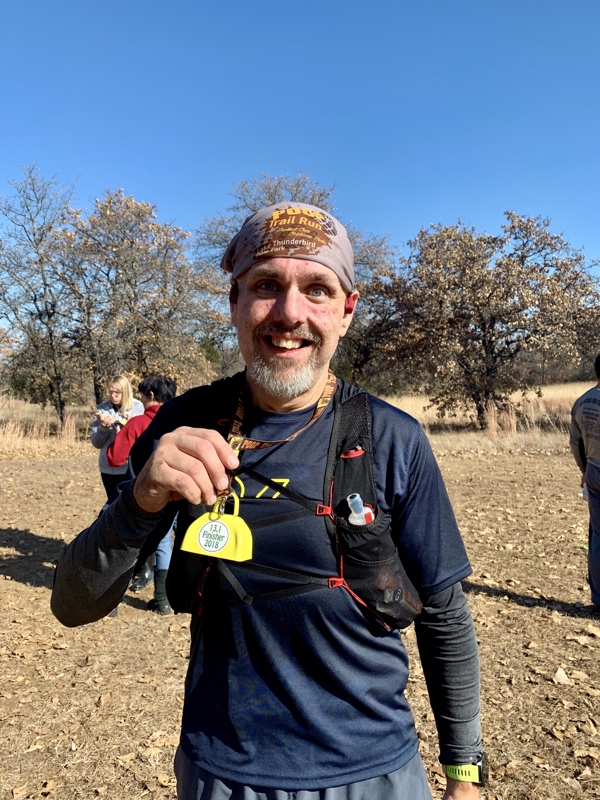 I enjoyed some post-race food (sweet potato pancakes with peanut butter sauce) and waited for Pete, who finished not long after me. We were both pleased with our race performance and plan on running more trails.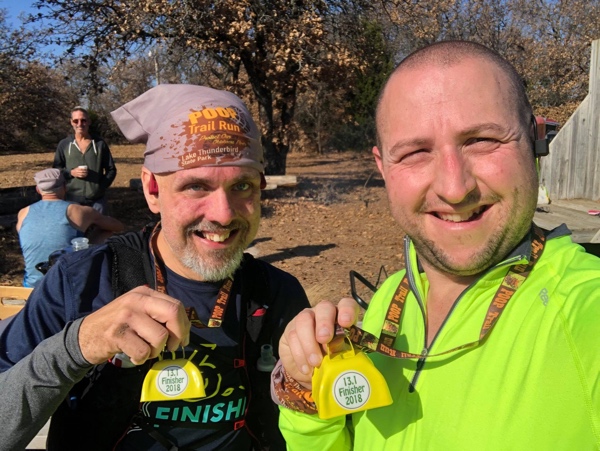 Final Thoughts
Trail races are incredibly difficult compared to road running. You have to be engaged 100% of the time or you will find yourself wiping out or bonking, but the end result is a feeling of satisfaction unlike any other I've experienced. There's a profound connection to nature and fellow racers that you just don't get on the road. I look forward to many more trail races in the future.