Reading time: ( words)
It is no secret that I came down with a serious trail bug after doing the POOP Trail Run in December, so I was sure to sign up for another one right away. I found the Greenleaf Trail Run in Braggs, Oklahoma and it looked like a winner. How can you not dig a trail race with a bigfoot for a mascot?
My first question about the race was, "Where is Braggs?" I've never heard of the place. It's a small town in Eastern Oklahoma, near Muskogee. Wikipedia lists it as having a population of under 300 and .3 square miles of land. It's super tiny, in other words.
The race is held at the Greenleaf State Park, one of the original state parks of Oklahoma, situated around a lake with the same name. This year there was some construction going on at the park so the typical trail used for the race was unavailable, but volunteers furiously worked to construct a new setup and in my opinion they did a bang-up job. The terrain was primarily single-track trail, but also had a little bit of a paved stretch (sidewalk and road), and lots and lots of rocks.
The trail race offered several distances. The main course was a 4-mile loop, so runners could choose between a 4, 8, and 12 mile distance to run. There was also an untimed 1-mile fun run that happened on a separate, paved trail. I opted to run the 12-mile course, which would include three loops.
Preparation
Before the race I didn't do anything special, except conduct more training runs during the week at Bluff Creek, my local trail system. It has a nearly 4-mile loop of single-track trails, and it's pretty popular with mountain bikers. The only thing about Bluff Creek is that's relatively flat and doesn't contain a lot of obstacles. There's not many roots, rocks, or other hazards to dart around.
Travel Time
The race itself was early Saturday morning, and with Mason still in school we had a tight travel schedule. We picked him up from school on Friday and headed straight out to a motel in Gore, Oklahoma, just a few miles south of the park. The drive took nearly three hours from our house, and was all interstate so it wasn't a big deal.
When we arrived at the hotel we met up with the Rustin family as my friend Pete was going to run the race, too. We ate pizza at the local pizza shop and then settled in for an early sleep to get ready for the race.
Greenleaf State Park
We got up early and headed to the park, and found the starting line. There were over 300 people entered in the race, which was a bit of a surprise to me, but a welcome one. The weather was a bit cool and I was anxious to start, but it was also nice getting a lay of the land beforehand. The people seemed like a pretty good mix of ages and skill levels, and the scenery of the park was absolutely beautiful. I would love to come back just to check out the park and maybe run some of the trails for fun, even.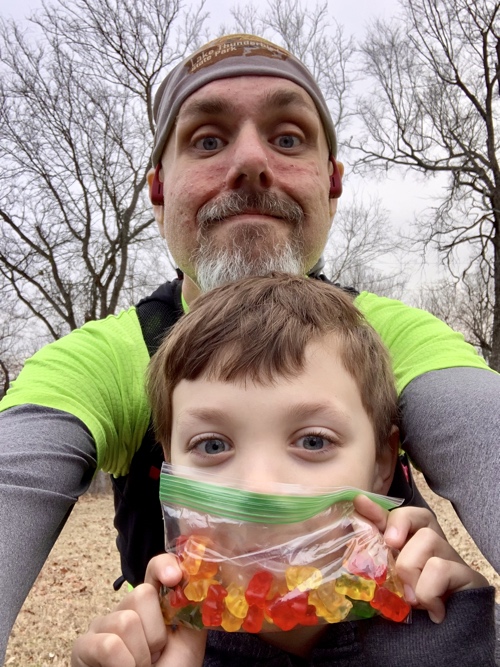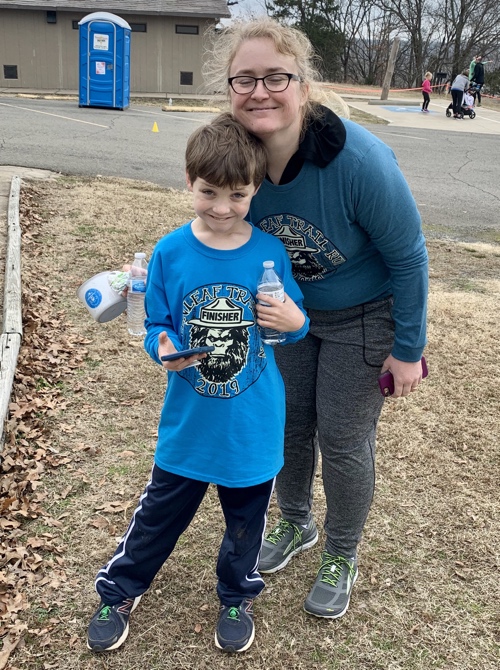 The Race
We lined up, the gun went off, and we all started running. From my experience with the POOP Trail Run, I knew to hold back a bit at the first, so I paced myself a little and tried to enjoy the scenery. The first half mile, however, wasn't doing much to help my enjoyment. It was incredibly rocky terrain banked at nearly 45-degrees, making it difficult to traverse.
After that first bit of painful terrain, the course curved into the established single-track and was significantly better of an experience. I found my groove pretty quick and started enjoying myself.
The terrain was rockier than what I was used to, even moreso than the trails at Lake Thunderbird, and had more hills than I was expecting. It made things quite challenging at times.
There was a guy dressed up as a sasquatch walking around the course. It was cool giving bigfoot a high five and seeing him on the course. At least, I assume it was a guy dressed up. Maybe it was THE REAL DEAL!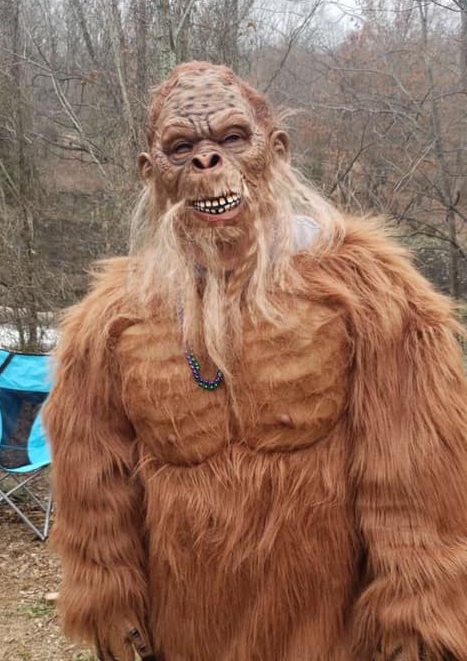 One section of the course included an "out and back" that was added thanks to the construction on the park. Being on newly-created trails, several trees had to be cut down and the small stumps were left in the ground instead of ground out. A few of them weren't incredibly visible, so it became a little bit of a tripping hazard. Fortunately I only snagged one once, and managed to stay upright. I was very pleased that I did not fall a single time on this race. No earth-hugging moments for me this time!
There were two major inclines as part of the trail, enough of a grade where most everyone I saw was walking instead of running, myself included. The first major incline was about halfway through the course, and the other was right near the end. Apart from that, the inclines were fairly typical for a trail race and nothing too taxing.
The one really difficult part of the course came right before the second incline, at about the 3-mile mark. A series of climbs and descents led to a "river of rocks" down a steep descent. You had to jump down onto the rocks (carefully choosing which one would be sturdy enough to not move on you), then climb back up the other side. I was nervous and alone on the first loop but managed to make it ok. The second time, a group of walkers were in front of me and trying to figure out how to get across. They moved aside for me and I nimbly jumped across. I think it helped them figure it out, so my good deed for the day was done.
After passing the "river of rocks" as I call it, we were rewarded with the second major incline. But that led to the aid station so it was all good.
Aid Stations
The course had two aid stations, which was perfect given the length of the loop. The first was about 1.5 miles in, and was designated as a water stop. Well, water, shots, and a guy dressed up as a dinosaur.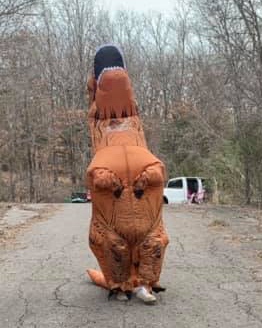 The second station was something special. After crossing the "river of rocks" and braving a bit of an incline before long I was greeted with thumping music, Mardi Gras beads on trees, and a decked patio in the middle of the woods with a party. They had water, gatorade, shots of Jägermeister and Fireball, candy, cookies, King's Cake, and all sorts of stuff. They really outdid themselves on this aid station.
On my second loop, a guy at the aid station told me, "You look like you need a shot of jäger."
I laughed and said, "I've still got one more loop. Ask me again next time you see me." He said he'd hold me to it.
I arrived at the third loop, and sure enough, the volunteer pointed to me and said loudly, "this man owes me a shot of jäger! Get him a shot!" I laughed and obliged, knowing that there was less than half a mile left in the race and the hard terrain was behind me.
Injuries
When I made it back to the start after my second loop, I saw my family and friends, including Pete, who was cheering me on and wearing his finisher's medal. I was a bit confused, wondering if he passed me and I was really lagging behind, or if something else happened.
Remember how I mentioned that painful bit of terrain at the very start? It turns out that Pete tweaked his ankle on that. He made it through the first loop, but the pain was too much and he was afraid of injuring himself by continuing. He made the smart move of stopping and the race director let him drop down to the 4-mile distance and finish anyway. He wasn't the only one. I've learned that descriptions of "moderately technical" trails mean "you need to focus 100% and you still might get hurt".
The Finish
I finished the race with the official clock time of 2:33:52, much slower than my road half-marathon time, but pretty dang good for this course. Overall I was 18th and 13th place for males. Ranking wasn't broken down by age group, but if it had been I would have placed 3rd for my age division, which is pretty good if you ask me. I felt pretty good about this and I had a solid run.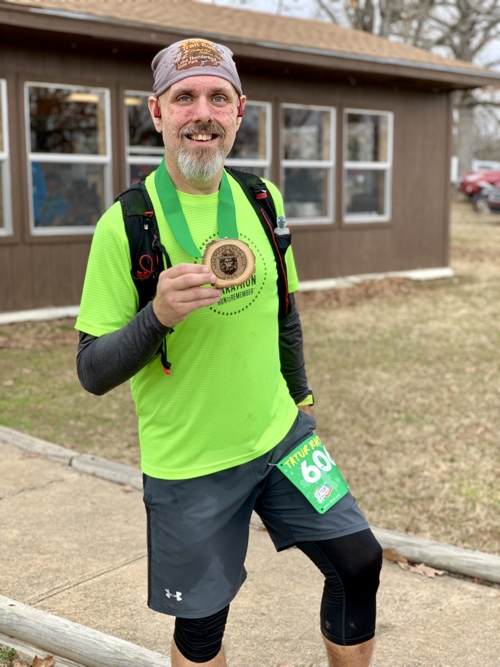 In spite of the difficulty I really enjoyed the race and would recommend it to people, maybe not as their first trail race, but as a good intermediate step into the world of trail racing. I will plan on running this again if my schedule allows.