Reading time: ( words)
Months of training culminated in me showing up well before the sun to stand at the starting line, corralled with thousands of other people ready to run the OKC Memorial Marathon.
Thoughts repeated in my head on a loop. "This is crazy. Can I do this? I can do this. I am crazy."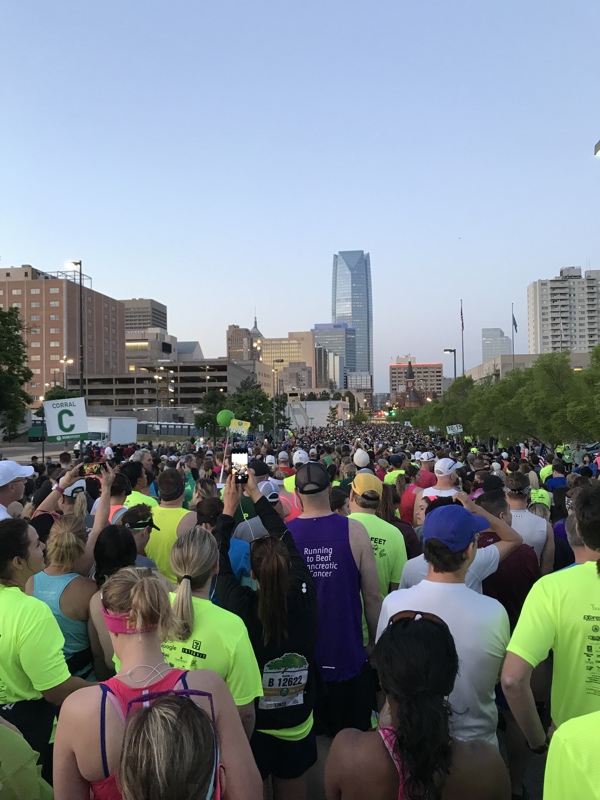 I also started thinking to myself that the spaghetti dinner the night before loaded with a bunch of hot sauce (the only way I will voluntarily eat spaghetti) was a monumentally BAD idea.
Before long, the starting gun fired and eventually the corral I was in made its way to the front and we were off!
At first it was like any other race I've competed in: The energy was electric and paces quickened as runners found their paces and slowly the crowd stretched out like living taffy.
I found myself reminding myself to slow down in spite of the energy. I needed to conserve strength for the long haul.
I saw a few familiar faces in the crowds on the sideline, which gave me an additional energy boost, and I looked at my watch to see my pace going a little faster than I was anticipating, so I slowed down.
The weather was ideal: cool to start but slowly heating as the sun rose, but not to the point of affecting my performance. It was a glorious start and I was having a lot of fun.
Mile nine hit faster than I thought and I was surprised at how easy things were going. But then, disaster struck and my stomach knotted up. I felt the gurgle, rumble, and knew that something bad was brewing. "Oh no," I thought. I made it to the next aid station and fortunately the line at the porta-potties was short. I quickly relieved myself and continued on my way.
Every five or six miles throughout the race, my stomach reminded me of its existence. Between those spells, the run was fine, however. I never felt overly tired, nor did I feel any significant pain. I was able to keep going.
Halfway through the race took us along a stretch of trail around Lake Hefner, where I regularly train. It felt great to run on my "home turf" and served to provide a much-needed energy boost.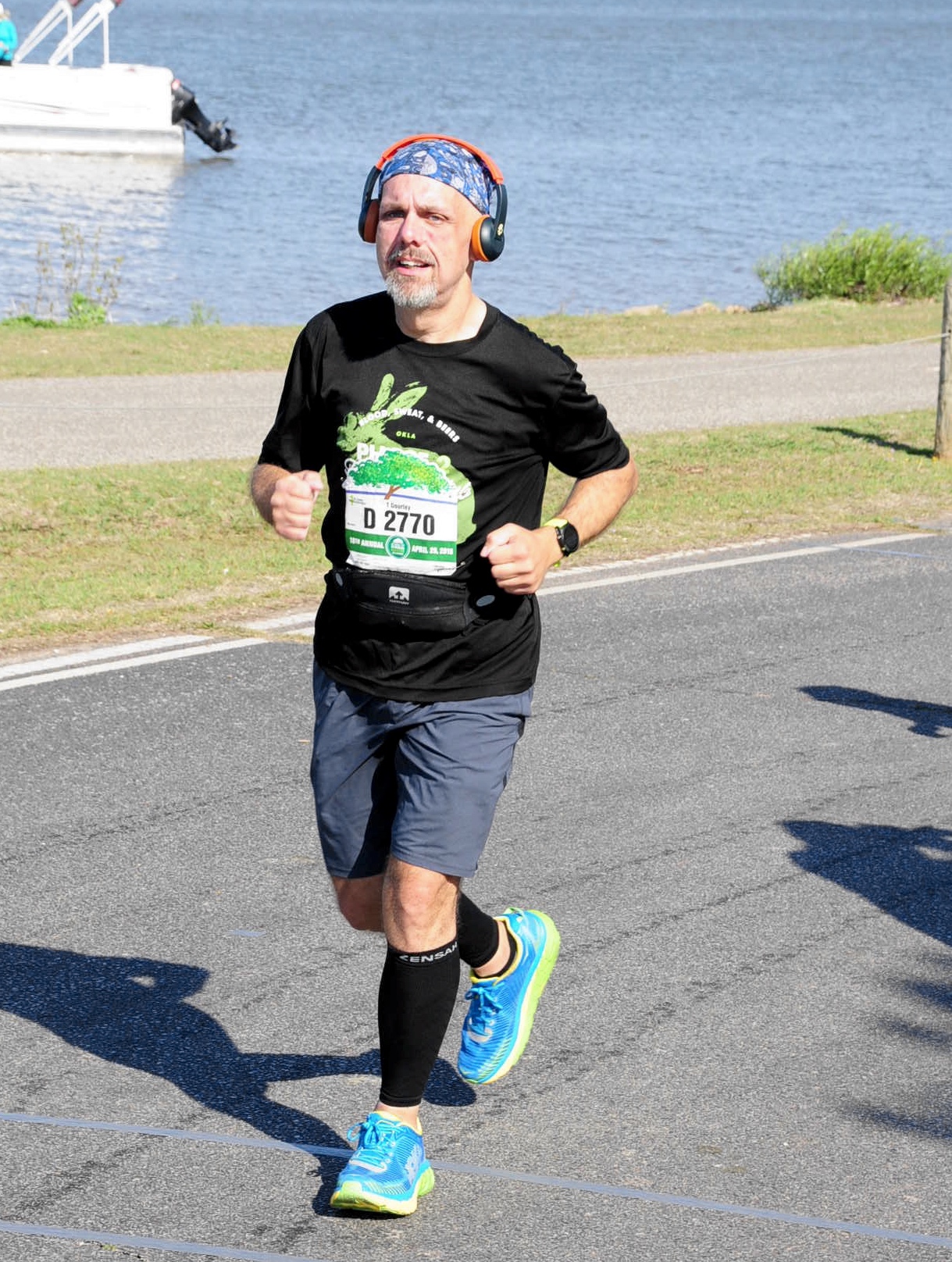 At mile 21, I congratulated myself for running the farthest I have ever run, and I felt the need to walk a bit. So for .2 miles I allowed myself to slow to a walk at the next water stop, but then kicked it back into gear again.
My stomach at that point, relented and decided to let me finish the race in peace. I found a second wind and got into a groove, enjoying the rest of the run. As I made it to mile 25 I kicked it up a notch and pushed as hard as I could, overpowering the 5-hour pace team but making it to the finish at exactly 5 hours.
It was slower than I was hoping, but the GI issues were 100% to blame for that, and really my goal was to just complete the race. And I was proud that not once during the run did I have the desire to quit or felt like it was too much to handle.
I look forward to my next marathon and will be much better prepared for it. Now I know what to expect and what my body needs to make it through. I am confidant my next marathon will be a PR by significant margins.