Reading time: ( words)
Sunday afternoon was a cold and windy day in Oklahoma, but not nearly as cold and windy as it was the first time I ran the Run Lucky 5k in 2014. Then it was miserable, overcast, and threatening to rain while we ran in near-freezing conditions. Today we lucked out and it was just cold and windy enough to make running pretty enjoyable. At least to me.
Since I'm currently training for the marathon next month, I have been limiting the number of races I do so it doesn't add a lot of extra work to my training schedule, but I couldn't pass this one up. It was largely personal. When I ran this race before I was over 300 pounds, walked large portions of it, and ended up taking nearly an hour to complete the race.
I needed redemption.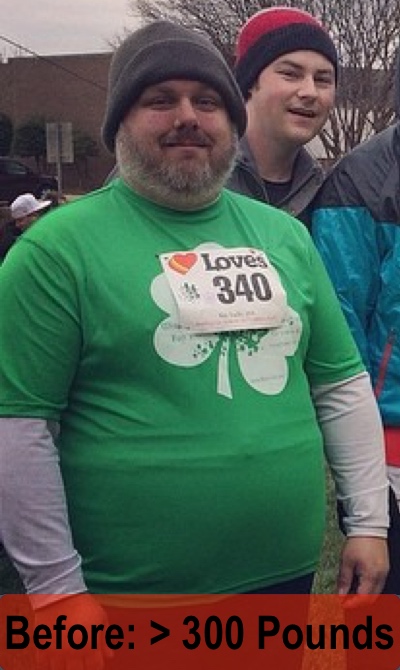 Me at the Run Lucky 2014 race
I've been working on my 5k pace for a while now, and have been shaving minutes and seconds off it and so I expected to finish this one in just under 30 minutes. I know the course from other races: It winds through Mesta Park in OKC which has some hilly terrain, but not terribly bad. The elevation change is something like 131 feet, which is less than my typical training run of 191 feet.
A lot of people showed up for the race. 732 participants for the 5k alone. It's a fairly popular event in OKC and a lot of the "regulars" from the running community were in attendance. I love the fact that I'm getting to the place where I recognize faces from other races and training runs around the city.
The gun went off, I started my watch, and took off. I broke my cardinal rule of racing and went full-tilt right off the starting line, and had to eventually back off a bit into a comfortable pace, but I was excited. It had been a few months since i did a proper race so I was really getting into it.
I don't really have much to report: The general vibe from the other runners was positive and friendly; the course was straight-forward and not super challenging, and I managed to finish strong at 27:18, 8th in my division and 99th overall, putting me in the top 100.
Check out those Zensah compression sleeves. Aren't they killer?